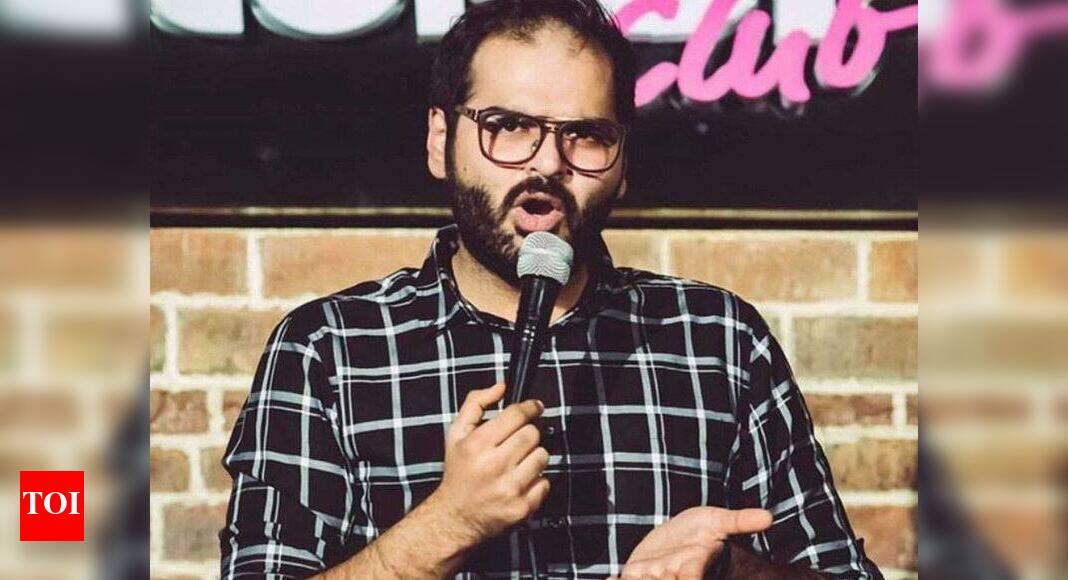 NEW DELHI:
Attorney General
K K Venugopal on Thursday granted consent for initiation of
criminal contempt proceedings
against stand-up
comedian Kunal Kamra
for his tweets virulently criticising the Supreme Court after it granted bail to journalist Arnab Goswami in an abetment to suicide case.
Referring to the tweets, Venugopal said they are "not only in bad taste but clearly cross the line between humour and contempt of the court".
"Apart from this, there is a picture of the Supreme Court building dressed in saffron colour with a flag of the ruling
political party
, namely the BJP, having replaced the tricolour. This is a gross insinuation against the entirety of the Supreme Court of India that the SC is not an independent and impartial institution and so too its judges, but on the other hand is a court of the ruling party,
BJP
… All this, in my opinion, constitutes criminal contempt of court," Venugopal said in his letter giving consent to an Aurangabad resident to initiate contempt proceedings against Kamra.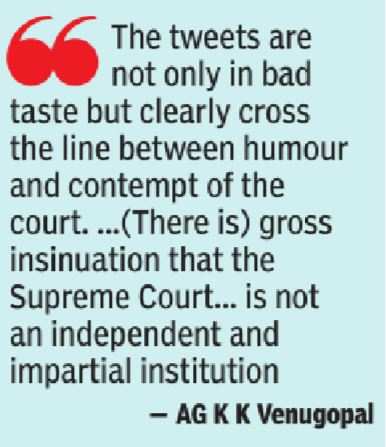 The AG specifically mentioned Kamra's two controversial tweets but said other tweets are also highly objectionable and it is for the court to take a call whether those tweets also constitute contempt of court.
"I find that today people believe that they can boldly and brazenly condemn the Supreme Court of India and its judges by exercising what they believe is their freedom of speech. But under the Constitution, freedom of speech is subject to the law of the contempt and I believe that it is time that people understand that attacking the Supreme Court of India unjustifiably and brazenly will attract punishment under the Contempt of Courts Act, 1971. I therefore grant consent to proceed by way of initiating contempt proceedings against Kunal Kamra," Venugopal said in his letter to Shrirang Katneshwarkar who sought his permission to proceed against the comedian for contempt of court.
Consent of the attorney general is required under Section 15 of the Contempt of Court Act, 1971 read with Rule 3(c) of the Rules to Regulate Proceedings for Contempt of the Supreme Court of India, 1975.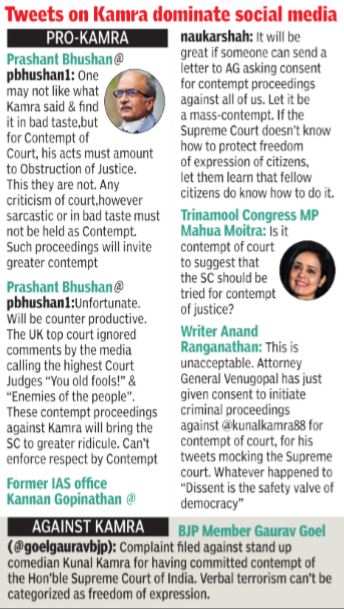 Venugopal had earlier refused consent to initiate criminal contempt against actor Swara Bhaskar saying her comment regarding the Ram Janmabhoomi title dispute verdict was her perception.
"The comment refers to the judgment of the Supreme Court, and is not an attack on the institution. This does not offer any comment on the Supreme Court itself or say anything that would scandalise or tend to lower the authority of the Supreme Court. In my opinion, this statement does not constitute criminal contempt," Venugopal had said while declining to give consent for contempt proceedings against the Bollywood actress.