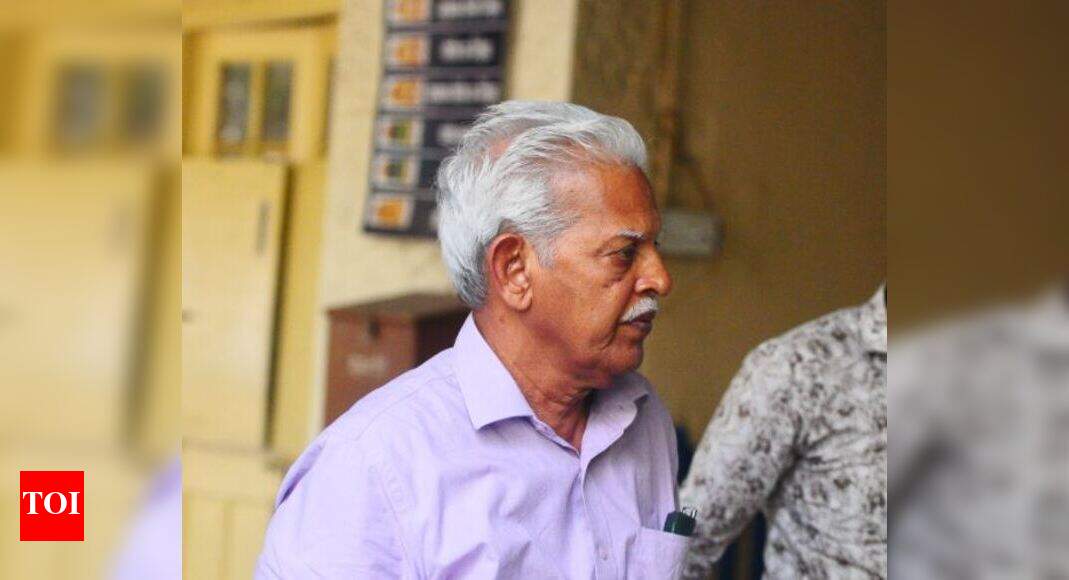 MUMBAI: Bombay High Court on Thursday directed the state and National Investigation Agency (NIA) to ensure that a team of doctors from Nanavati super speciality hospital to "forthwith" undertake a video consultation with 81-year-old incarcerated Telugu poet P
Varavara Rao
lodged in Taloja prison as an accused in the 2018 Elgar Parishad case.
A vacation bench of Justices AK Menon and SP Tavade said the video consultation could be arranged on Thursday itself or at the earliest on Friday morning where Nanavati doctors, preferably the same ones who had examined him when it submitted a report in July, can examine him and if they recommend further consultation physically, they may do so by visiting Rao at Taloja jail. A report can be submitted via email to the state and the matter will next be heard on November 16.
The bench passed the order in a fresh petition filed by Rao's wife, P Hemlata, through advocate R Satyanarayan to seek his transfer from jail to Nanavati hospital due to his "deteriorating health." It noted that "all agreed this is the most suitable solution in the interest of the accused and to assess his condition."
Senior counsel Indira Jaising, appearing for Rao said there was urgency to hear the petition as a co-inmate of Rao's from Taloja had informed Hemlata on Wednesday that Rao's health was fast deteriorating. Jaising said, Rao has dementia and at first said a video call for consultation cannot be a substitute for physical and clinical examination by an independent panel of doctors.
But Anil Singh, additional solicitor general for NIA said it would "undermine" the faith in government doctors and the treatment being given in jail to inmates. He suggested that the video call should be the first option before a physical. Singh said "best treatment" would be given to Rao.
The NIA in its affidavit said Rao was accused under grave charges of Unlawful Activities (Prevention) Act and for alleged Maoist links.
Public prosecutor Deepak Thakre said the jail doctors submitted a report dated November 12 and recommended some tests which will be done.
His family apprehends that Rao may lose his life in prison if he continues to remain there, said Jaising, arguing that there was no medical report since July 30 and he had been shifted back to prison, from Nanavati on August 28. She said detention conditions cannot be inhuman or cruel, and every inmate has rights under Article 21 (right to life and liberty). "If he dies in jail it would be a case of custodial death," she said.
The HC bench noted that though the Supreme Court had on October 29 given the family liberty to either make a plea before the HC in a pending petition or to file afresh for an expeditious hearing, they had filed a fresh one on November 5, after withdrawing the petition before the apex court, for his release on health grounds. The HC Chief Justice fixed it specially for hearing since Diwali vacations had begun.
The petition by Rao's wife sought "a declaration that the respondent(s) by their failure to provide appropriate medical treatment to the Petitioner's husband, Dr Vara Vara Rao, have violated his Fundamental Rights to Health, Dignity and Life and thereby Rights under Article 21 of the Constitution of India, read with the Rights under Articles 7 and 10 under the International Covenant on Civil and Political Rights and Article 12 the International Covenant on Economic, Social and Cultural rights recognized and incorporated as Human Rights in the Protection of Human Rights Act, 1993."
Hemlata's petition also seeks order for his release and to be under his family's care in Hyderabad. But this plea was not pressed on Thursday.
She said when he was arrested and imprisoned in Yerawada jail in 2018 November in the case registered by the Pune police he had "age related problems but no major health issues. He was reading and writing more than a person his age would. He was 68 kgs and his eight is now reduced to 50 kgs."
The questions that her petition has sought to raise, she said are "whether bail and in particular medical bail can be made dependent on the nature of the offence as it will defeat the very purpose of medical bail."
Her case is that ever since his release from Nanavati, a private charitable hospital, he has been kept in Taloja jail, "bed ridden, on diapers and a urinary bag with two co-accused as his 24-hour attendants. He can move only in a wheelchair and is mostly bed-ridden."
The petition also questioned, "Whether denial of expeditious hearing in matters relating to bail and in particular medical bail do not result in gross violation of right to life and liberty – as the last effective hearing despite repeated applications" and "Whether respondents are not accountable for continuous deterioration of medical health of petitioner's husband, who is 81 years of age, and tested COVID positive while in judicial custody, has several comorbidities and whether the said imprisonment and denial of bail is not a form of cruel and inhuman treatment during the pendency of trial?"
It said, "Does not the detention in cruel and inhuman conditions by virtual denial of medical facilities to restore him to health does not deny him his right to dignity and health?"