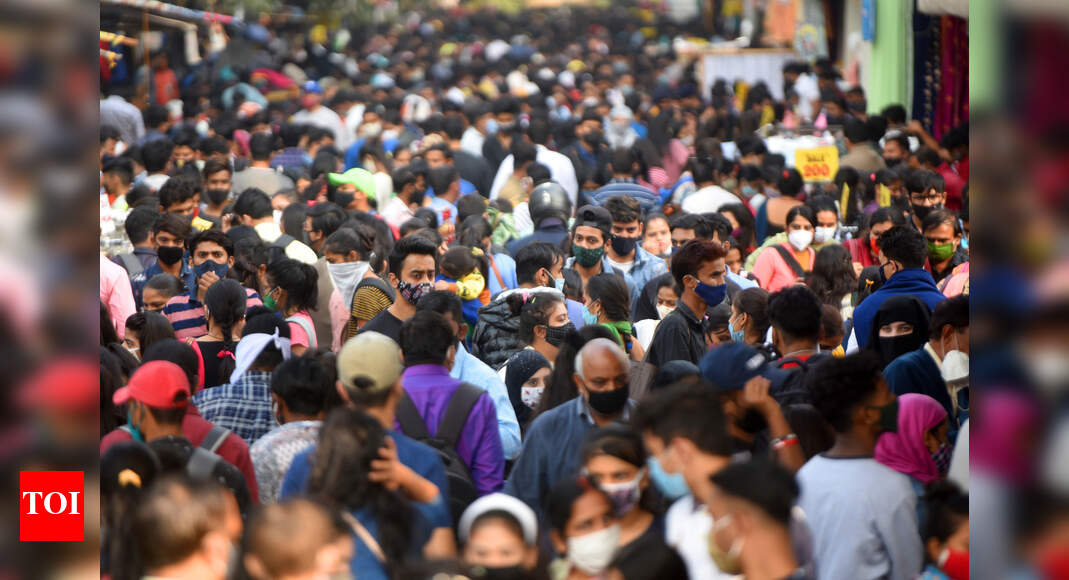 NEW DELHI: The national capital appears to be under the third wave of coronavirus with over 8,000 cases getting reported on Wednesday.
This was the highest single-day count of cases reported in the city since the outbreak of the pandemic. The rising number of cases has resulted in an acute shortage of ICU beds and hospitals being forced to cramp additional beds inside the existing wards.
The recent spur in the number of cases is being attributed to an increase in public activities due to the ongoing festival season.
Delhi experiencing third wave
In government-run Ram Manohar Lohia Hospital, doctors have packed beds into ICU wards to the closest permissible limit.
"We have increased the number of beds but there are limitations of distancing and ventilation," said Desh Deepak, a senior pulmonologist. "We're operating at almost full capacity in ICUs."
"God forbid if anyone else needs hospitalisation … what would happen two days down the line?" he said. "That is even scarier."
Delhi only worst-affected state where new cases rising
When compared to the worst-affected states, it was observed that Delhi was the only place where the number of cases was rising. Even in Maharashtra, the worst-affected state in the country, the new cases was coming down.
Not much change in seroprevalance
The prevalence of Covid-19 antibodies in Delhi's citizens didn't see either a significant rise or decline in the past month. The October sero-surveillance report — the fourth in the series for which 15,015 samples were tested from 272 wards — revealed a 25.5% prevalence of antibodies against 25.1% in September, meaning one in every four Delhiites has been exposed to and recovered from the novel coronavirus. The report was submitted to Delhi High Court on Wednesday.
There were significant inter-district variations in the seroprevalence levels.
Though seroprevalence decreased in West district from 27.9% to 21.2%, it went up from 21% in September to 49% in October in Central, perhaps because of the numerous markets, such as Sadar Bazar and Chandni Chowk in the district.
Delhi staring at acute shortage of ICU beds
Following a plea by the Delhi government, the high court allowed the use of 80 per cent ICU beds in 33 private hospitals.
The festive season and the increase in air pollution are likely to increase the load of cases in the city. "We are firefighting because Diwali is looking like a super spreader event in front of us and the public just doesn't see the threat," said a senior health department official in Delhi, declining to be named.
India has so far reported around 8.6 million coronavirus infections – the world's second-highest after the United States – and 127,571 deaths. But overall, it has been adding fewer cases daily since a mid-September peak, and its fatality figure of 92 per million people is well below the world's tally of 160 and the United States' 711.
Still, the state-run Indian Council of Medical Research says the recent fall in cases nationally could be undone if there is a resurgence in infections around Diwali.
The Centre has asked the Delhi government to prepare resources to handle as many as 15,000 cases a day and test more aggressively.
Over half of the city's 16,511 Covid hospital beds were occupied as of Wednesday, government data showed, with more than 24,000 other patients isolating at home. There is no separate data for ICU beds.
Delhi's government said hundreds of more beds have been reserved for Covid-19 patients in nearly two dozen private and government hospitals. More than 100 ICU beds are also being added in government setups.
(With inputs from agencies)