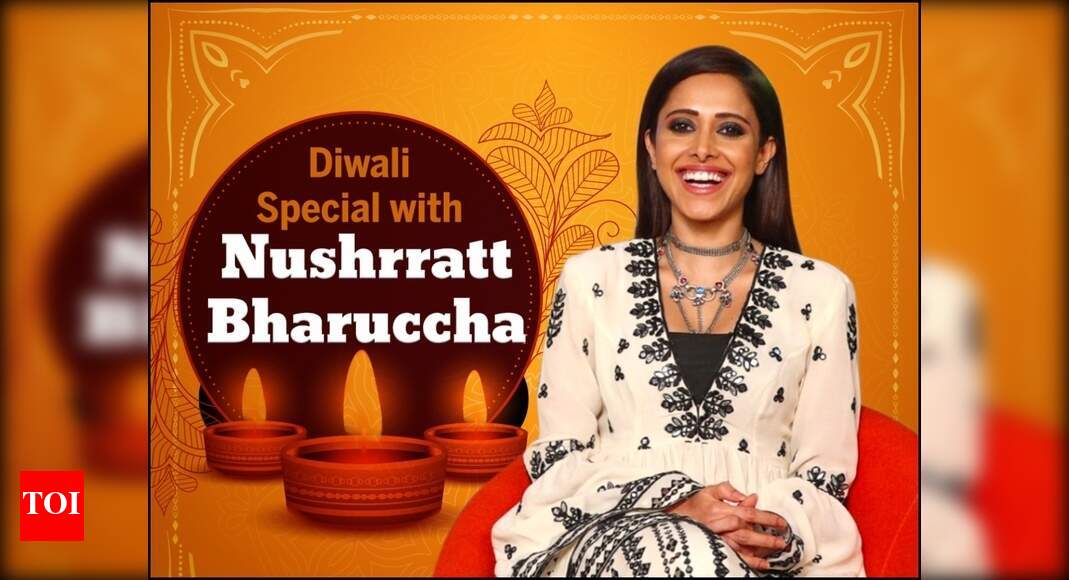 Actress Nushrratt Bharuccha
is busy promoting her first Diwali release, '
Chhalaang
' co-starring
Rajkummar Rao
. The film was slated for June 2020 release but due to the pandemic, it was postponed. But the actress is 'super happy' that the film is finally going to reach the audience. Since the festival of lights is just around the corner, ETimes caught Nushrratt for a candid interview where she spoke about her childhood memories, why she believes
Salman Khan
is a
sutli bomb
, working with her second-time co-star Rajkummar, her experience with renowned filmmaker
Hansal Mehta
and much more! Excerpts:
How special is Diwali to you?
It's one of those few festivals that really make me want to do things on that festival.
Jahan aap festive khud se feel karne lag jaate ho. You feel like just celebrating life for yourself and also for everybody around. So that amazing and happy feeling inside is what I feel for Diwali. And I am glad and really happy that my film 'Chhalaang' is releasing on Diwali. We will be at home and we will be able to watch this with family at home. For the first time, I will be watching my film with the family (laughs).
This year everything is different. How do you plan to celebrate a safe and sound Diwali?
I plan to stay at home. I have planned to call some of my family relatives home and cook some nice food for them at home. I will just be within the family…talk, chit-chat and let time pass. It's my dad's birthday on 14
th November, so bring in his birthday and celebrate Children's Day with him. I will be keeping it simple and small but together.
Any memories from your childhood which you can recall?
The firecrackers ya! My god, I don't know why my brother bullied me with firecrackers. He used to burn crackers behind me, and I would jump here and there. That was fun for him. But I am always scared that someone might bring crackers near me (laughs). But that's one of those memories they don't go.
Diwali ki mithai that you binge on without feeling guilty?
I am always guilty and I generally wouldn't binge on it. But this year, I plan to. So everything! From kaju barfi to kalakand to mango halwa…I will be getting mango barfi from a shop in town and empty the box.
Your all-time favourite Diwali film?
'DDLJ'! It is my all-time favourite in any case but in Diwali, just because it has got that wedding and festival, in the whole film they are like eating and rejoicing, so it has to be 'DDLJ'.
What is your go-to attire for Diwali?
Indian definitely but simple, flowy, casual, effortless and just pretty!
Which firecracker do you love the most?
Anar! Simple and so pretty.
Bada hota hai aur khatam hojata hai. No sound and no fear (smiles).
Which Bollywood celeb would you associate with these Diwali firecrackers?
Anar: Me, because I love it.
Chakri: Rajkummar Rao, he's come a full circle.
Rocket: Ranbir Kapoor
Butterfly bomb: Kareena Kapoor Khan, she is just very colourful.
Sutli bomb: Salman Khan, because
unki films dhamake ke sath khulti hai!
Phuljhari: Shraddha Kapoor
This Diwali will be extra special for you since 'Chhalaang' is releasing. What do you have to say about it?
This is literally first in my filmography and I know that Diwali and festivals have that sort of celebratory mode
jahan logo ko lagta hai ki filmein dekhne chalte hai aur kuch enjoy karte hai. But this time, I am feeling that really. Like I literally feel like, '
Arey Diwali hai, meri picture ki release hai'. Ye bolne me itna maza aata hai that I get the point of what it was all this while now. I am just happy and blessed. The film was made long back but the theatres were shut and I am glad that we have got a chance to be able to finally release it and take it to the audience. I am super happy that the film is finally going to reach the audience.
How would you sum up your experience with Rajkummar Rao and Hansal Mehta?
This film was in our (Rajkummar Rao) destiny and
issi film me humein saath aana tha. I think it's great because Hansal sir and he got a great rapo going on and they have got a great filmography. I always wanted to work with Hansal sir, so for me, it has become doubly special because it's Hansal sir and Raj now meets Luv Ranjan sir's world which is familiar to me. It felt like family and extended family friends coming together. We all on set had only one aim that we all wanted to make an honest and happy film. It's for kids, teachers, parents and everyone else to just sit and enjoy and feel happy about the film.
You bought a new house recently. Was it a pre-Diwali gift to yourself?
It's the first time I am able to do the house the way I wanted to do and that's actually a great thing. I have worked on everything and I love it. It's a lot of fun to see what you think in your head to come alive and to see it in front of you and then to live it. I cannot wait to go back home. I just want to go back home and sit on my sofa, chair and all of that (laughs).
Your message for fans this Diwali.
I hope you have a great Diwali and I hope you all try and keep it safe. Be happy, be with loved ones and enjoy it. I mean tough times but we will get through it. We are almost through it. Before we know it, we will be back to normal.
Abhi jo hai usko accept karo and stay happy.