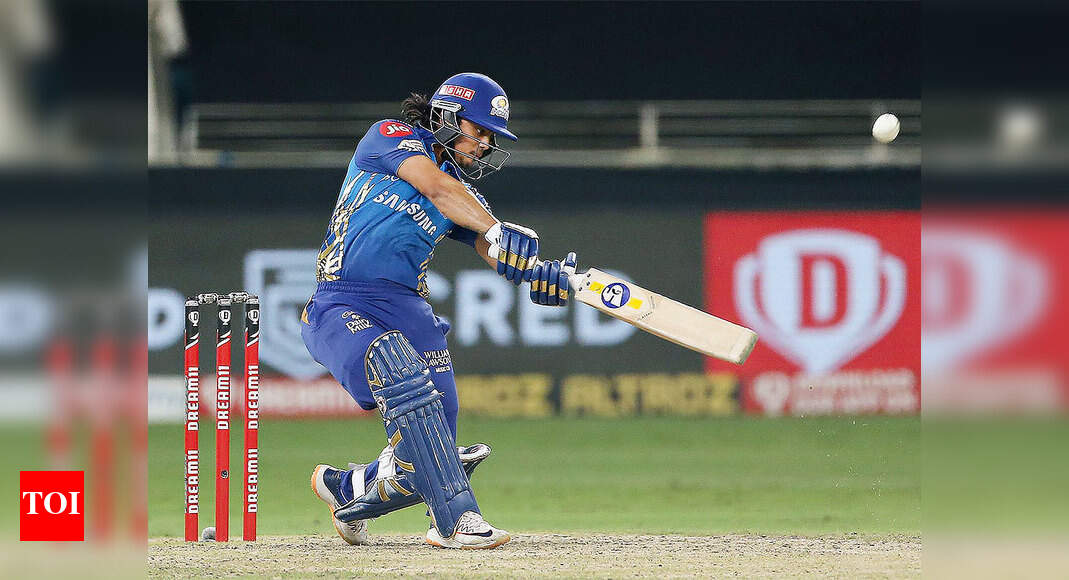 Ishan Kishan
serves national selectors timely reminder of his skill and capabilities
MUMBAI: Of the 30 sixes that Ishan Kishan smashed in
IPl
2020, the maximum by any batsman in the tournament, there was one which stands out in memory. Off the last ball of the
Mumbai Indians
' innings in the first qualifier against Delhi Capitals, the Jharkhand left-hander tonked a wide full toss from
Anrich Nortje
, even with his front leg falling, high over and beyond extra cover.
"He sometimes reminds me of West Indies opener
Roy Fredericks
, who possessed that falling hook shot. He has a bit of a Caribbean flavour about him," former India batsman
Jatin Paranjpe
, who was a national selector till his term finished a few days back, told TOI on Wednesday.

"His penchant for hitting sixes shows that he's a brave player. If there's one word to describe him in this IPL, it's 'courage.' Remember that he's playing in an all-star team at MI, which can be a negative. It can weigh you down. You tend to think, 'even if I get out, there's a Kieron Pollard or a Suryakumar Yadav or a Rohit who will finish the job. However, he had the courage to tell himself: 'No. I will do the job.' "I've always followed Ishan as a batsman. He has very strong fundamentals from a technique perspective, as soon as I saw him. He's got a great head position. The flow of his bat – his backlift is one of the cleanest, smoothest and fluent. Backlift is the foundation of batting. By character and intent, he's an aggressive batsman," Paranjpe said.
Two members of India's national selection committee, which was in office not too long ago, feel that Kishan is very close to making it to India's limited-overs sides. "It's really fantastic to see this pocket dynamite in action. He had a fantastic IPL. Batting at No. 4 and later opening the innings, shows his adaptability and temperament. His ability to switch gears as per the team's requirements will definitely place him as a hot contender for the wicketkeeper-batsman slot for Team India in both T20s & ODIs in times to come. If he can keep wickets well and bat the same way he did in the IPL, he will be a welcome addition to the national squad," said former India wicketkeeper MSK Prasad, who was the chief selector till earlier this year.
"He's ready for the India cap from a potential and standards perspective. See, it's not just about picking somebody. You have to see: 'What does the team need right now? If you pick a player in the 15, does he have a real shot of playing in the XI, or is he just someone who is occupying a slot? The 'flying formation' or 'balance,' is an integral part of selecting a player. It's also about whether he's needed at this point in time. From a quality perspective, there's no doubt in my head that he's ready for international cricket," said Paranjpe, who played four ODIs for India in 1998.