My COVID Story: "I felt so breathless that I could not walk" – Times of India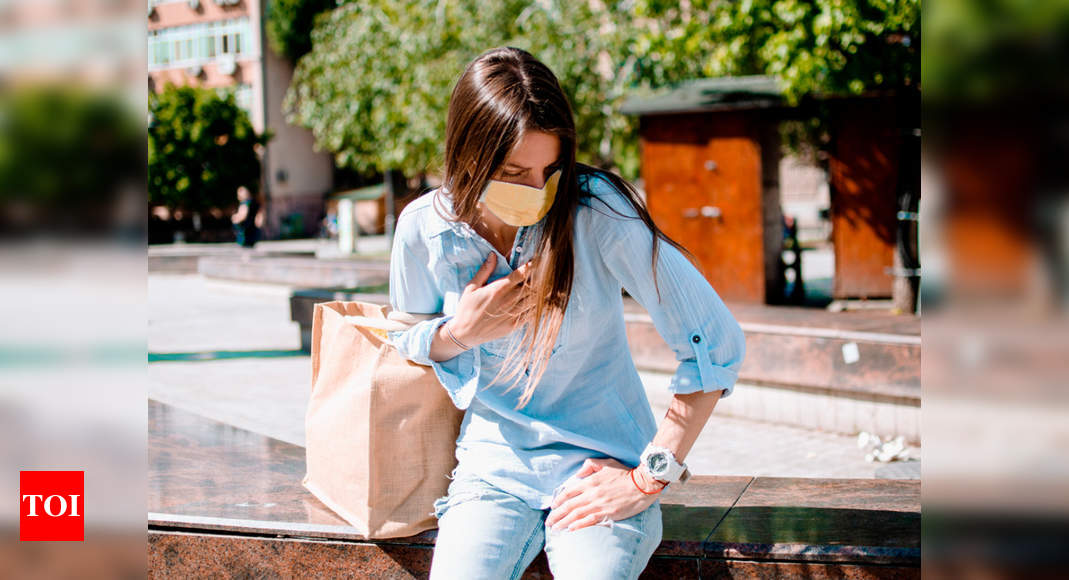 68-year-old Rajeswari Iyer had gone to meet her friends at a nearby park, after which she started to experience COVID-like symptoms. On testing she got to know she was positive. This is her story of how she was hospitalised but managed to wade through the difficult period with the emotional support of her family.

I am Rajeswari Iyer, 68 years and my husband Mr. Narayan Iyer is 76 years. We live in Goa for the past 38 odd years. We strictly followed all the rules of lockdown and remained indoors throughout. Door delivery of essential services helped us.
Goa, like rest of the country had come to terms with the COVID and the New Normal by September 2020. On 7th of October 2020, I had gone out with my friends to a park in the evening. Previously also we had met a few times, but we maintained all the norms; all of us had our masks on, proper social distancing maintained, but on 7th of October, while I was returning home from the park, my head started aching.
I could not understand why I was experiencing a headache all of a sudden. Made a hot cup of coffee and settled down on a chair in my balcony, sipping it. Just then my sister called from Hyderabad, just the regular casual call to check on us. She immediately asked me if I am ok, I was surprised. She told me that my voice was shaky as if I have palpitations. I said, nothing I just have a bad headache.
I told my husband about my headache and finished dinner and retired early to bed and fell asleep. But past midnight, I could not sleep, my headache increased and I felt feverish. I did not want to disturb my husband so I came out of the room, it was 2 am, I was shivering, checked my temperature it was 101. It was a different kind of headache, across my forehead, even my nose was choked. I popped a Crocin pain relief pill and tried going back to sleep in the next room but in vain. I was scared. I somehow waited till 5.30 am and called my sons in California. They asked me to be calm and said it could just be cold and fever.
By 7 am, my fever shot up to 102. My husband called our family doctor. He advised COVID test and soon I tested COVID positive and I was home quarantined with medication. My sons and their families were on video calls to motivate me. There was no respite from my headache and fever. Other family members and my friends were in touch with my husband. The CT scan revealed that my lungs were affected.
It was on 11th October night around 11 pm, I was on video call with my younger son and I could not talk. He could make out I was getting breathless but I thought it was because my nose was blocked. I wanted to go to the wash basin to clear my nose but I could not walk and I started coughing. My son asked me to sit down and asked my husband to call the doctor. The doctor advised hospitalisation. Both my sons and my husband along with the doctor decided that I should be admitted next morning i.e 12th November.
The hospital recommended by our family doctor was far away and except Jio there was no other network available. The communication with my family was totally cut off. My sons and my husband were in constant touch directly with the doctor.
One of our closest friends sent me a Jio dongle and to everyone's respite we got connected and video calls and Whatsapp were possible.
I was on oxygen as soon as I was admitted. I was administered Plasma therapy followed by 30/40 injections via intravenous and other parts of the body. My sugar level was controlled by insulin to keep the steroid injections going. The fever came down and headache was also gone, but there were so many mood swings. I cried loudly, shouted at the nurses and duty doctor at times. I was not able to understand what was going on with me. My brain went blank, I came to know later that it is called Brain Fog. There was no question of confusion as there were no thoughts at all. I felt like I was under some drug influence. I could not take out the irritating oxygen mask as I gasped for breath.
It continued for 6 days. Surprisingly (luckily) I did not loose my smell or taste or appetite. But my voice was feeble, I could not talk. There was steady improvement after the plasma therapy. There was a TV in my room, but I could not watch news or my serials, just did not like them anymore. I could only watch religious channels, playing devotional music. I started walking inside my room, felt better.
On the seventh day, 18th October, I was discharged on a condition that I will be home quarantined for two more weeks. Yes, it was very much needed as my husband and the domestic helper needed to be protected. There was terrible weakness, a little exertion, I developed fever and breathlessness.
Regular checking of oxygen levels and pulse rate and fever had to be recorded and sent to doctor on two hourly basis.
Apart from respiratory exercise with Respirometer, I started with pranayama, sectional breathing exercises with the guidance of my cousin and my Art of Living teacher. Yoga Nidra meditation helped me a lot. Many of my near and dear offered special prayers for my speedy recovery. Since I am a diabetic and aged, weakness seems to be more and recovery is slow.
Five weeks have passed and I am almost normal. But it so strange that one day I am fine, the other day I feel a little weak and feel tightness in my chest. My voice has improved but still not back to normal. I still do not like to watch my favourite serial, "Crime Petrol" or movies. I have 15 more days of medication to go, I should be fine, back to normal by the end of this month.
Did you fight COVID-19? We want to hear all about it. ETimes Lifestyle is calling all the survivors of COVID to share their stories of survival and hope.
Write to us at [email protected] with 'My COVID story' in the subject line.
We will publish your experience.